My family and I enjoyed a Saturday out at the Abbeville Spring Festival last week. The weather in the morning and afternoon was positively perfect! It was almost nippy when we arrived, and it was comfortable even in the afternoon sun. As the sun dipped into the horizon, a front blew through. We saw a few raindrops as we were trying to decide where to eat. As the weather rolled in, we quickly shifted our preferences from festival fare to any place with a roof. Thankfully, we were a short walk from The Dutch Oven.
We were seated at a table in the back room, and I was thrilled to see that Ivan was still getting use out of the menu layout I did for him. That project was early in my business (it was invoice #4, dated 11/25/2011). The owner has barely even asked for help with his menu since 2011. I think he needed a hand updating prices once, but there has been zero revenue from The Dutch Oven's menu since I created it. And that's the way it's supposed to be.
Major Point #1: I don't begrudge the fact that my client is fully using what I provided for him. I intended for him to be able to use the design once I was finished with it.
<sales-pitch>The meal was everything we expected. If you haven't eaten at The Dutch Oven in Abbeville, SC, give it a try sometime soon. Really, make plans soon.</sales-pitch>
During the meal, I noticed a small table-top display next to the napkin dispenser. It was a well-crafted postcard in an acrylic holder: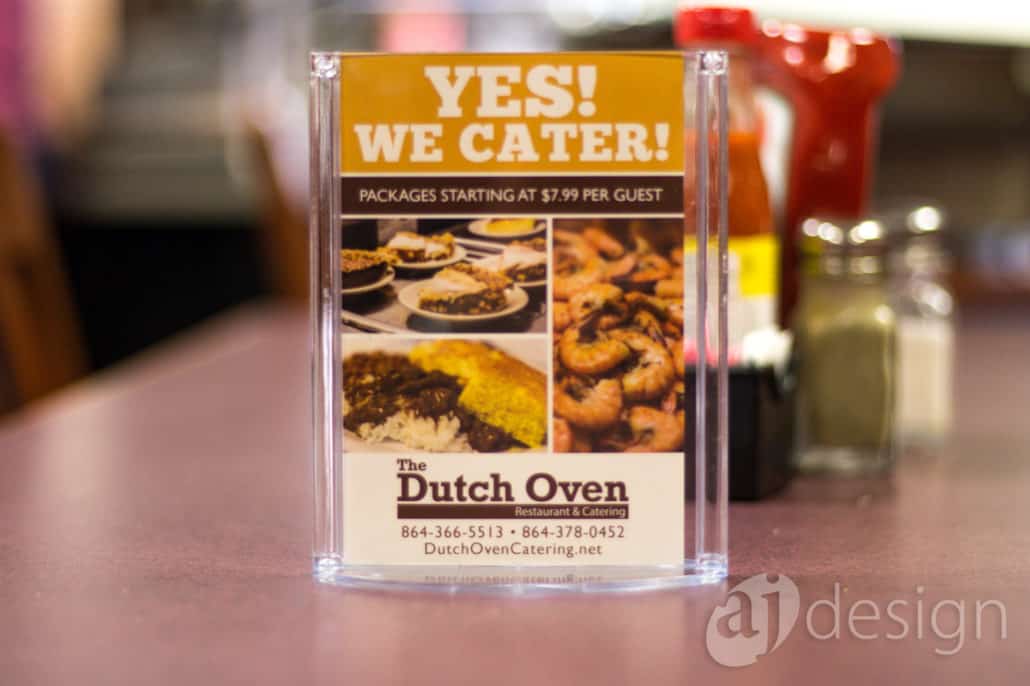 I noticed the images right away. They were from a shoot I did for Ivan about a year ago in efforts to create some content for his new website. And yes, I ate most of what I shot! Mmmmmm.
So Ivan hired me for some photos and his website. I agreed to provide rights to the photos, and he paid for them. I was happy with the way the website turned out, but I was thrilled to see that Ivan had used the images I captured in a card to promote his catering service.
Major Point #2: When you purchase the rights to use images, use them. That's why you paid money for them. Put them on your website (if you secured permission for that). Use them in print ads (with permission). Use them on social media (if that's what your license allows). Use them.
So there you have it. I'm happy when my clients need me. I'm just as happy when they don't need me and they are extending the life of the things we've worked to create for them. Take it and run with it, Ivan.
Of course this "take it and run with it" admonition only applies when you have paid for the taking and the running. If it's rights-managed photography or some type of single-license software or website, please do NOT take it and run with it outside the bounds of your agreement.
https://ajdesignco.com/wp-content/uploads/2017/05/photos-for-ductch-oven.jpg
1333
2000
AJ Design
https://ajdesignco.com/wp-content/uploads/2017/04/logo2x.png
AJ Design
2017-05-12 21:37:33
2017-05-12 21:37:33
Take It and Run With It: What I Want Clients to Do with the Work I Create for Them