Emma, the Web & Graphic Designer Contestant on Wheel of Fortune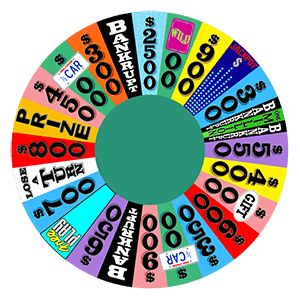 Big Winner!
I saw a rerun of Wheel of Fortune recently, and I happened to notice that one of the contestants was a web and graphic designer. Her name is Emma. She and her husband didn't make it to the bonus round on this military family edition of Wheel, but the fact that she mentioned her name and her occupation on national television seemed like a potential big win to me as the owner of a small business.
Unless the show doesn't allow contestants to tell about their appearance, I think the fact that your name and face are reaching a national audience would be worth a blog post or two and some social media updates, don't you? Surely Emma would have agreed and I would find evidence of that on her website or in social media sites.
I hopped over to the computer to do a little googling after the show concluded. I was very curious to see if I could find Emma online by searching the few pieces of information I recalled.
Google: emma web graphic designer wheel of fortune
The top search result was a page on a blog that recapped Wheel of Fortune. I scrolled down the results expecting to find more. I didn't find Emma, but I did notice in the recap that her last name is Rhodes.
Looking for Emma Rhodes
I searched on, looking this time for information on Emma Rhodes, web and graphic designer. What I was looking for was some sort of website or portfolio site that would allow a person to convert themselves from a viewer on Wheel of Fortune into someone who was in Emma's sales funnel.
Despite my best Google-fu, I didn't find anything that conclusively pointed to Emma's business or career. I did find someone named Emma Rhodes that is an illustrator/painter in London, but she isn't the Emma I was seeking. In my effort to make a connection between Emma's appearance on Wheel to her revenue stream, I came up bankrupt (sorry for the pun…I just couldn't resist!). There are several potential reasons for this:
---
1 Emma Rhodes is a designer, but perhaps she is an internal designer. If she is neither a freelancer or the owner of a firm, she would have no pressing reason to promote her services.
2 Emma Rhodes is no longer a web and graphic designer (the show originally aired on November 9, 2012 and I saw the show on August 2, 2013).
3 Emma Rhodes is interested in growing her business and finding new clients, but she does not have a website — this is hard to believe since she said she is a web designer (unless of course she has fallen victim to the Cobbler's Children Have No Shoes syndrome).
4 Emma Rhodes has a website, but she wants to be one of those best-kept-secret kind of designers.
---
I am not sure what the actual reason is that I was unable to find Emma Rhodes online. I suppose I would actually need to speak with Emma to solve that mystery.
The flip side of this little exercise is this: Will this blog post, with no special SEO magic, eventually rank well for emma web graphic designer wheel of fortune? I am no SEO guru, but I have learned a few things about content. I bet it will. Only time will tell.
---
Do you happen to know Emma Rhodes? Are you one of her clients? Please contact me and put me in touch with her. I would love to connect and network with her! It is always exciting to meet other professionals in different markets and learn from each other.
https://ajdesignco.com/wp-content/uploads/2017/04/logo2x.png
0
0
AJ Design
https://ajdesignco.com/wp-content/uploads/2017/04/logo2x.png
AJ Design
2013-08-03 17:15:53
2015-03-18 15:39:43
Emma, the Web & Graphic Designer Contestant on Wheel of Fortune